RESIDENTIAL, COMMERCIAL, AND BEYOND
The highest quality and affordable prices for custom concrete and coatings in Houston Texas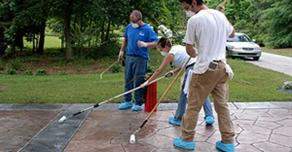 With over 20 years of combined experience in the business, the family at Custom Concrete Coatings works together as a team to bring our customers the best quality of work and customer service. Using the industry's most innovatively designed products, Custom Concrete Coatings has a proven track record of executing quality work, on time and within budget.
Choosing a concrete company can be difficult. Every concrete company ensures the best customer service, reliability, and workmanship. Using our combined years of experience and by using the highest quality products available, Custom Concrete Coatings has gained the trust of thousands of satisfied customers throughout the years. We specialize in providing commercial, industrial and residential epoxy coatings, concrete floor coatings and waterproofing with no job being too big or too small.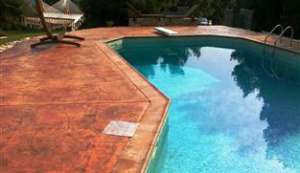 Services
Based in Houston, Texas, Custom Concrete Coatings is proud to serve customers near and far. We currently provide the following services throughout the greater Houston area and surrounding markets of Austin, Texas; San Antonio, Texas; Dallas/Ft. Worth, Texas. If you have a project in need of our service, please contact us today.
Free Estimates: Custom Concrete Coatings offers free estimates to all customers. Knowing what products you need and how much it will cost up front is our initial approach to ensuring that the client will be pleased with our work. Please click "HERE" to contact us today!
Planning and Project Management: Custom Concrete Coatings will provide all customers with the planning and project management needed to execute a successful project. From product knowledge and design to installation and quality control, we will ensure the system you select will be long lasting for years.
Repair and Maintenance: Custom Concrete Coatings can repair and maintain most concrete floor coatings. Most of our systems are developed so that repairs like patching, sloping or re-sealing can be done quickly and economically. General maintenance and cleaning is also simple and usually consists of everyday methods such as: sweeping and mopping (w/water and vinegar). For tougher stains, we recommend using a mild degreaser or a low psi pressure washer (to not exceed 1,000psi) or soft bristle brush. With proper care and maintenance, you will maximize the life of your coating. We do offer professional maintenance packages at the request of the customer. We encourage all customers to contact Custom Concrete Coatings any time with questions regarding repair or maintenance.
What kind of service and coatings do you offer?
Aside from our state of the art ALX and MACoat waterproofing systems, we offer a variety of concrete textures and epoxy coatings that come in many different patterns and colors (click here to see our gallery) for industrial, commercial and residential uses. Our wide variety of coatings are perfect for balconies, roof top decks, back patios, sidewalks, front porches, pools, driveways, garages, interior surfaces and much more.
Custom Concrete Coatings provides products with durability and strength to serve restaurants, schools, airports, office buildings, chemical plants, laboratories, hotels. You name it, we got it!
How much does it cost?
Costs depend on what type of coating system you choose, the existing condition of the existing surface and the square footage. Custom Concrete Coatings offers free estimates and consultation. We guarantee the best product available and always do our best to provide the best market pricing. Custom Concrete Coatings offers builder pricing for contractors and home builders.
Do you have a showroom?
We do not have a showroom but do offer scheduled meetings to our warehouse where we keep a variety of samples for customers to see. Should we not have a sample of what you are looking for, we will create a sample just for you. Contact us today to schedule an appointment.
How long does it take to install a Custom Concrete Coating?
Most jobs can be completed within 1-2 days, however, weather can become an issue and size certainly dictates the duration of a project. Through our free of charge project management, we will always provide as much information as possible for the success of your project.
Do you provide maintenance to systems not install by Custom Concrete Coatings?
Yes! If you have a water leak on a balcony or an overlay system that is failing, we can fix it! Repair is a specialty of ours and we are always available to service any needs. We love to not only find water leaks; we take great pride in fixing them forever.